G80 chain hook Lever Block/Ratchet Puller Chain Hoist Winch with Japan T O Y O technology
Order Now
₱0
 HSH-A Ratchet Lever Hoist Manual Chain Pulley with factory price
Technical Features
1. One touch operation free chain adjustment
2. Grade 80 alloy load chain ISO and GES standard
3. Forged and heat treated load hooks with batch trace ability and stretch indicators
Idling operation
1. Depress the retaining pawl all the way and pull the grip ring towards you.
2. The chain can be adjusted up and down by hand.
3. To terminate the idling: Set the change lever in the down position (See diagram as below). Then, depressing the retaining pawl as far as possible, push the grip ring gently so as to let the pawl engage the outer edge of the retaining plate. Next, grip the grip ring and handle with a single hand and push them while turning them while turning them counter-clockwise. The retaining pawl returns to its original position.
---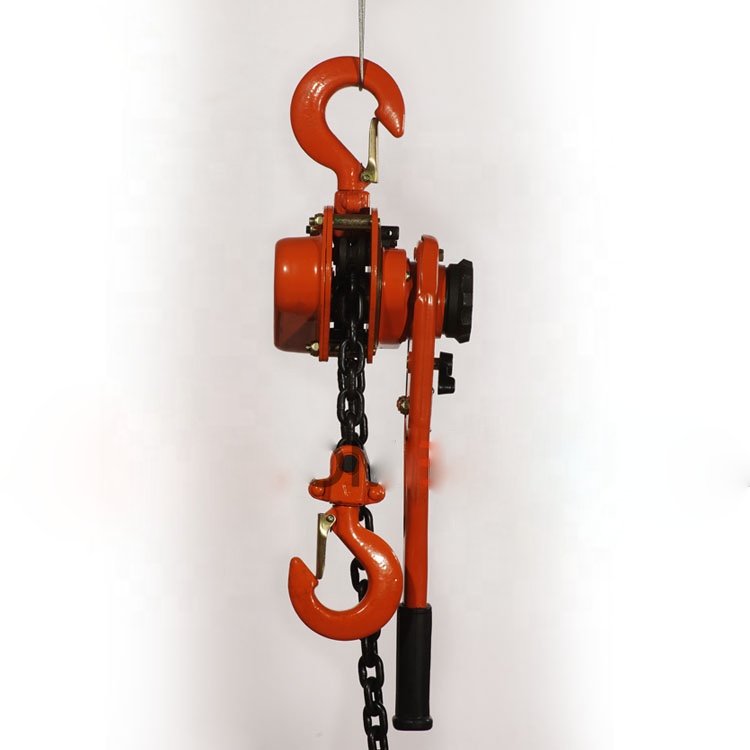 Tested according to EN13157-2004
Product code

Capacity

(t)

Standard lift

(m)

Test load

(t)

Pulling Efforts

(kg)

Chain fall No.

Load chain Dia.

(mm)

Dimensions(mm)

Net Weight

(kg)

A

B

C

D

E

HSH-A075

0.75

1.5

1.13

15

1

6.3

148

128

295

256

45

6.9

HSH-A100

1.00

1.5

1.50

20

1

6.3

152

128

310

256

48

7.0

HSH-A150

1.50

1.5

2.25

18

1

7.1

161

148

335

368

52

9.6

HSH-A200

2.00

1.5

3.00

24

1

7.1

168

148

350

368

60

10.1

HSH-A300

3.00

1.5

4.50

38

1

9

191

180

405

368

66

15.9

HSH-A600

6.00

1.5

9.00

39

2

9

191

180

550

368

80

25.7